Cambridge Cybercrime Centre
The Cambridge Cybercrime Centre is a multi-disciplinary initiative combining expertise from the University of Cambridge's Department of Computer Science and Technology, Institute of Criminology and Faculty of Law. We started work on 1 October 2015.
Our approach will be data driven. We have already negotiated access to some very substantial datasets relating to cybercrime and we aim to leverage our neutral academic status to obtain more data and build one of the largest and most diverse data sets that any organisation holds.
We will mine and correlate these datasets to extract information about criminal activity. Our analysis will enhance understanding of crime 'in the cloud', enable us to devise identifiers of such criminality, allow us to build systems to detect this type of crime when it occurs, and aid us in showing how it is possible to collect extremely reliable evidence of wrongdoing. When it is appropriate, we will work closely with law enforcement so that interventions can be undertaken.
Our overall objective is to create a sustainable and internationally competitive centre for academic research into cybercrime.
!! JOBS !!
We have three postdoc jobs (in a range of disciplines). Advert is here.
Cybercrime Conference 2018 NOW OPEN FOR REGISTRATION
After successful events in 2016 and 2017 we are running this conference again in 2018.
Date: Thursday, 12th July 2018.
Data sharing
We will not be keeping all this data to ourselves... a key aim of our Centre is to make data available to other academics for them to apply their own skills to address cybercrime issues.
Academics currently face considerable difficulties in researching cybercrime. It is difficult, and time consuming, to negotiate access to real data on actual abuse and then it is necessary to build and deploy data collection tools before the real work can even be started.
We intend to drive a step change in the amount of cybercrime research by making datasets available, not just of URLs but content as well, so that other academics can concentrate on their particular areas of expertise and start being productive immediately. These datasets will be both 'historic' and, where appropriate 'real-time'.
We will maintain high ethical standards in everything we do and have developed a strong legal framework for our operations. In particular we will always ensure that the data we handle is treated fully in accord with the spirit, and not just the letter, of the agreements we enter into.
Details of our sharing process and the datasets we have available are here.
Cybercrime Conferences
The Cambridge Cybercrime Centre ran a one day conference on cybercrime on Thursday, 14th July 2016. Click here for full details!
The Cambridge Cybercrime Centre ran a one day conference on cybercrime on Thursday, 13th July 2017. Click here for full details!
People
Richard Clayton Director, Cambridge Cybercrime Centre, University of Cambridge
Ross Anderson Professor of Security Engineering, Department of Computer Science and Technology, University of Cambridge
Alastair Beresford Reader, Department of Computer Science and Technology, University of Cambridge
Simon Deakin Professor of Law, Faculty of Law, University of Cambridge
Lawrence Sherman Director, Jerry Lee Centre for Experimental Criminology, Institute of Criminology, University of Cambridge
Alice Hutchings Post-doc Researcher, Department of Computer Science and Technology, University of Cambridge
David Modic Post-doc Researcher, Department of Computer Science and Technology, University of Cambridge
Daniel Thomas Post-doc Researcher, Department of Computer Science and Technology, University of Cambridge
Sergio Pastrana Portillo Post-doc Researcher, Department of Computer Science and Technology, University of Cambridge
Alexander Vetterl PhD student, Department of Computer Science and Technology, University of Cambridge
Alumni
Paul Leyland now, Visiting Researcher, Department of Computer Science and Technology, University of Cambridge
Julia Powles now, Cornell Tech, New York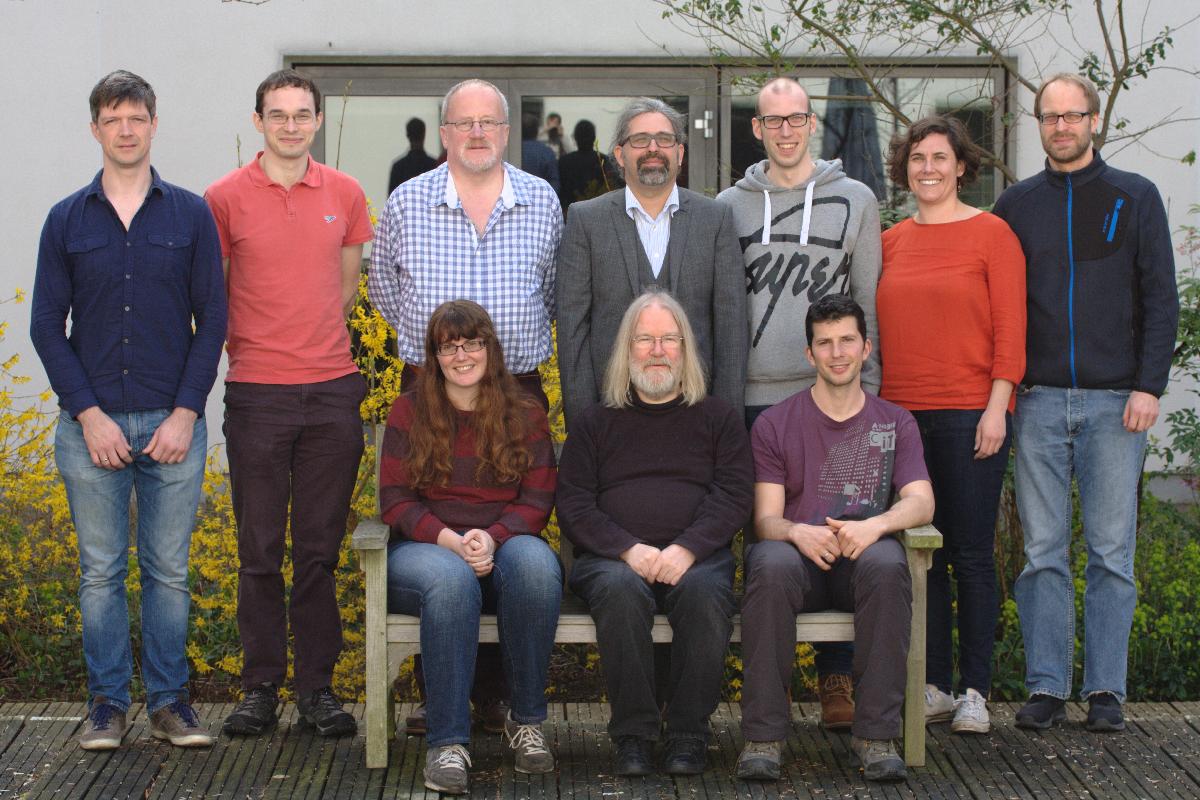 Back row: Alastair, Daniel, Ross, David, Alexander, Julia, Sven; Front row: Alice, Richard, Sergio